April 2017 Metro Vancouver Market Update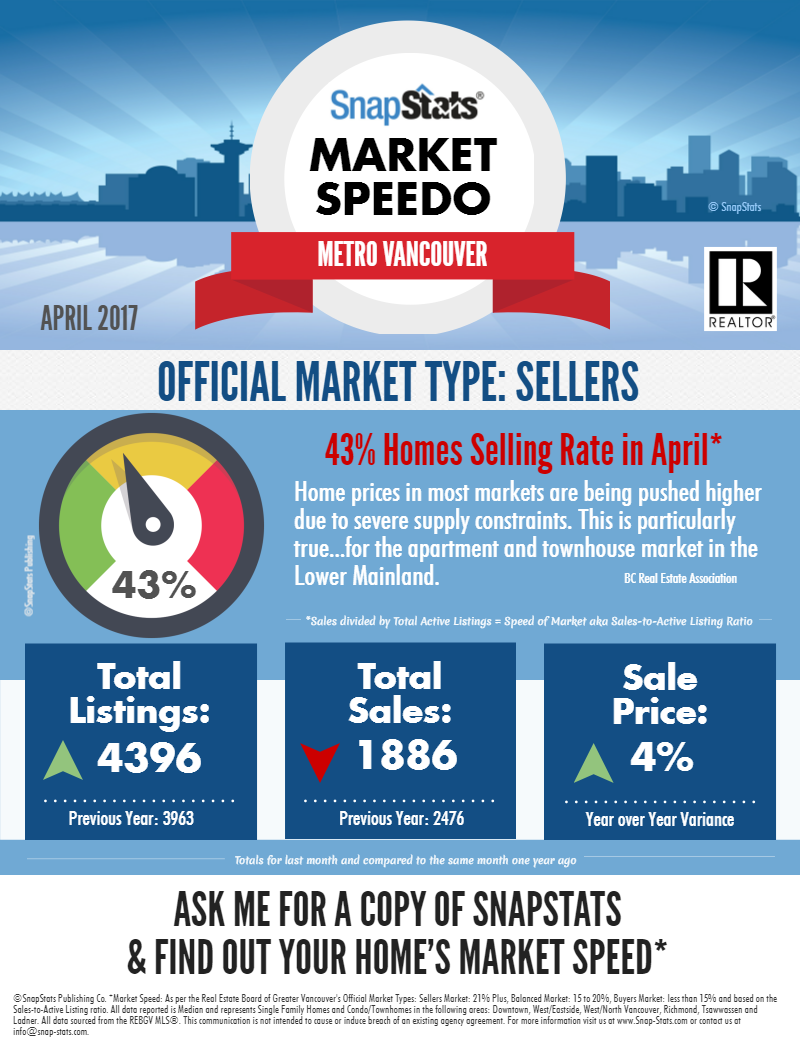 Over the last four months, we have seen a high and increasing demand for condominiums and townhomes in the Metro Vancouver area. Residential property sales in April 2017 totaled 3,553 compared to 4,781 homes sold in April 2016, representing a 25.7% decline. Moreover, in comparison to March 2017 sales have decreased by 0.7%. Overall April sales were 4.8% above the 10-year average for the month.
Out of the total sales from January to April 2017, condominium and townhome sales comprise the majority of residential sales in Metro Vancouver at 68.5% average. This is up 10% from last year's average over the same period of time (58.2%). However, this high demand for apartments and townhomes across Metro Vancouver is being met with a lack of listings, resulting in multiple offers and a surge in prices.
New listings for detached, townhome and condominium properties in Metro Vancouver totaled 4,907 in April 2017. This represents a 19.9% decrease from 6,127 properties listed in April 2016, and a 3% increase compared to March 2017 when 4,762 units were listed.
The sales-to-active listings ratio for April 2017 is 45.5% for all property types. This is 2% below the recorded ratio for March 2017. According to market analysts, downward pressure on home prices occurs when the ratio dips below 12% for a sustained period, while home prices often experience upward pressure when the ratio surpasses 20% over several months.
The total number of residential properties currently listed for sale on the Multiple Listing Service® (MLS®) in Metro Vancouver is 7,813, a 3.5% increase from April 2016 (7,55) and a 3% increase from March 2017 (7,586). Until more properties hit the market, residential prices will likely continue to increase.
By property type, the current ratio for sales-to-active listings is 26% for detached homes, 58.2% for townhomes, and 82.2% for condominiums. The MLS® Home Price Index composite benchmark price for all residential properties in Metro Vancouver is currently $941,100. This is a 5% increase over the past 3 months and an 11.4% increase compared to April 2016.
In addition, over the last 3 months, the benchmark price of condominiums in the region has experienced its largest increase at 8.2%, followed by townhomes at 5.3, and detached homes at 2.8%.
Sales of detached properties in April 2017 reached 1,211, a decrease of 38.8% from the 1,979 detached sales recorded in April 2016. The benchmark price for detached properties is $1,516,500. This represents an 8.1% increase over the last 12 months and a 1.8% increase compared to March 2017.
Sales of apartment properties reached 1,722 in April 2017, a decrease of 18.3% compared to the 2,107 sales in April 2016.The benchmark price of an apartment property is $554,100. This represents a 16.6% increase over the past 12 months and a 3.1% increase compared to March 2017.
Lastly, townhome property sales in April 2017 totalled 620, a decrease of 10.8% compared to the 695 sales in April 2016. The benchmark price of an attached unit is $701,800. This represents a 15.3% increase over the past 12 months and a 2.4% increase compared to March 2017.
*Information taken from Real Estate Board of Greater Vancouver monthly statistical report for April 2017*
Metro Vancouver Market At-A-Glance
Greater Vancouver Market At-A-Glance
Metro Vancouver ATTACHED homes Monthly Variances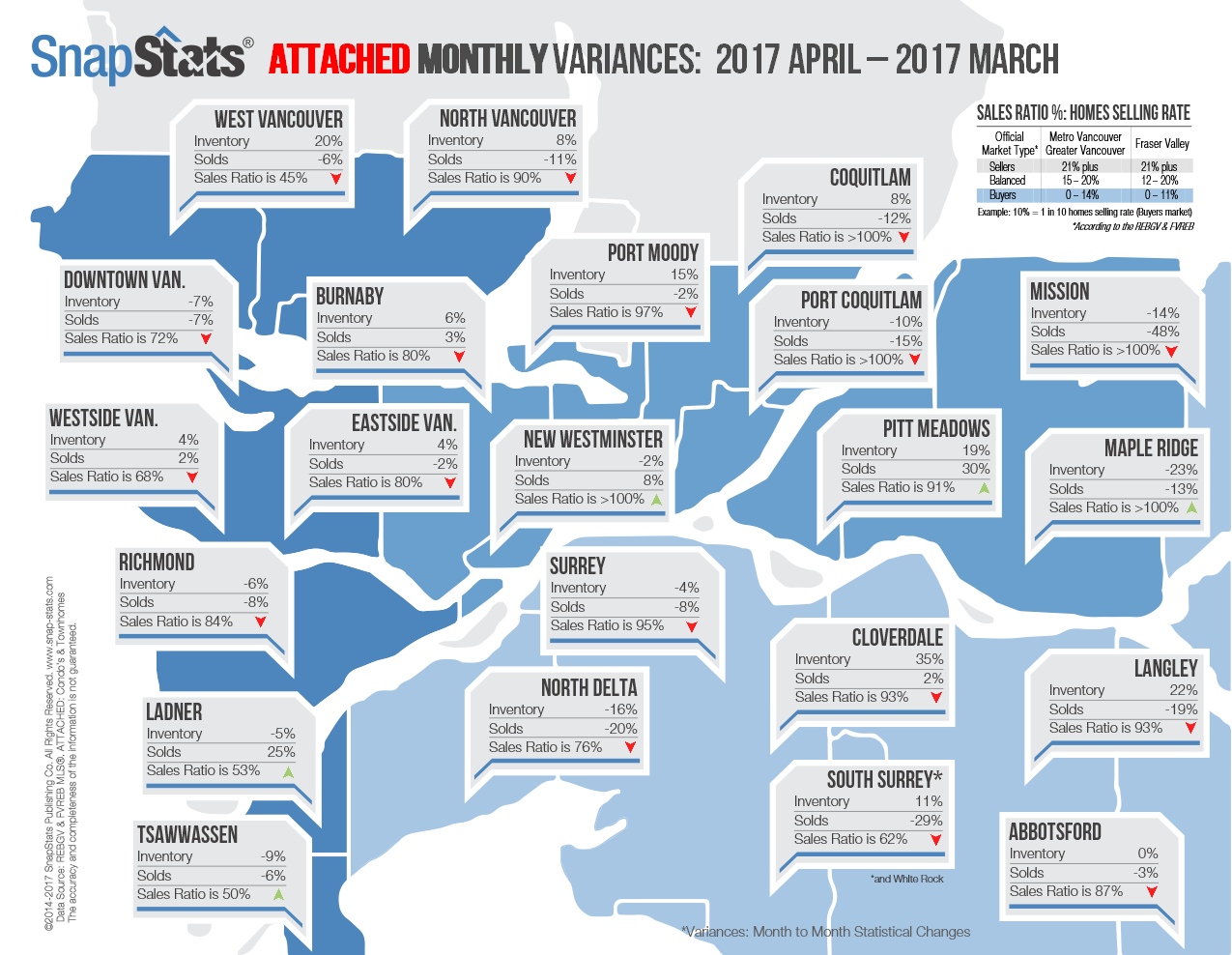 Metro Vancouver DETACHED homes Monthly Variances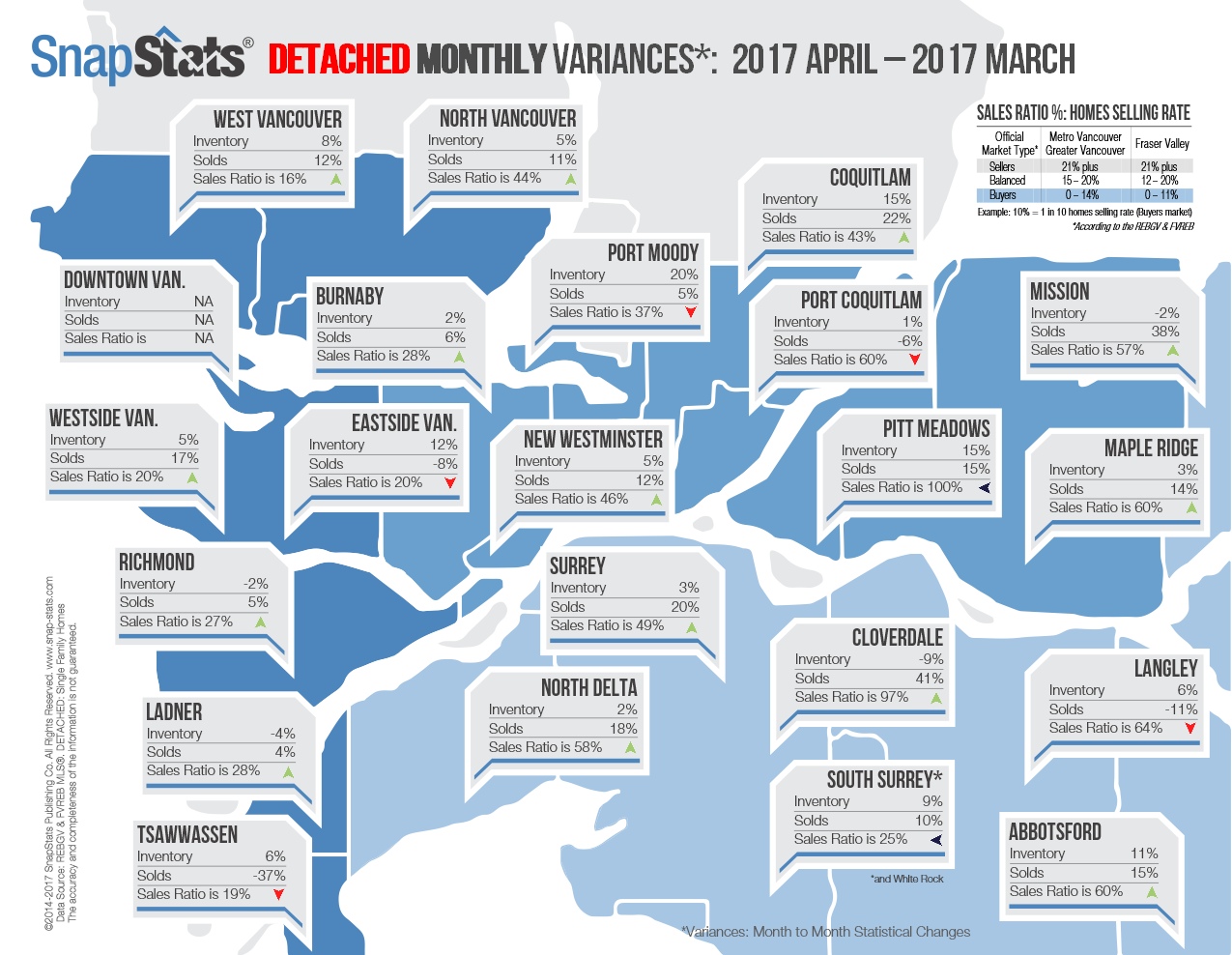 If you would like to have a copy of the market report for the month of April, please feel free to email me at hello@richardbao.ca
Rich