Horseshoe Bay West Vancouver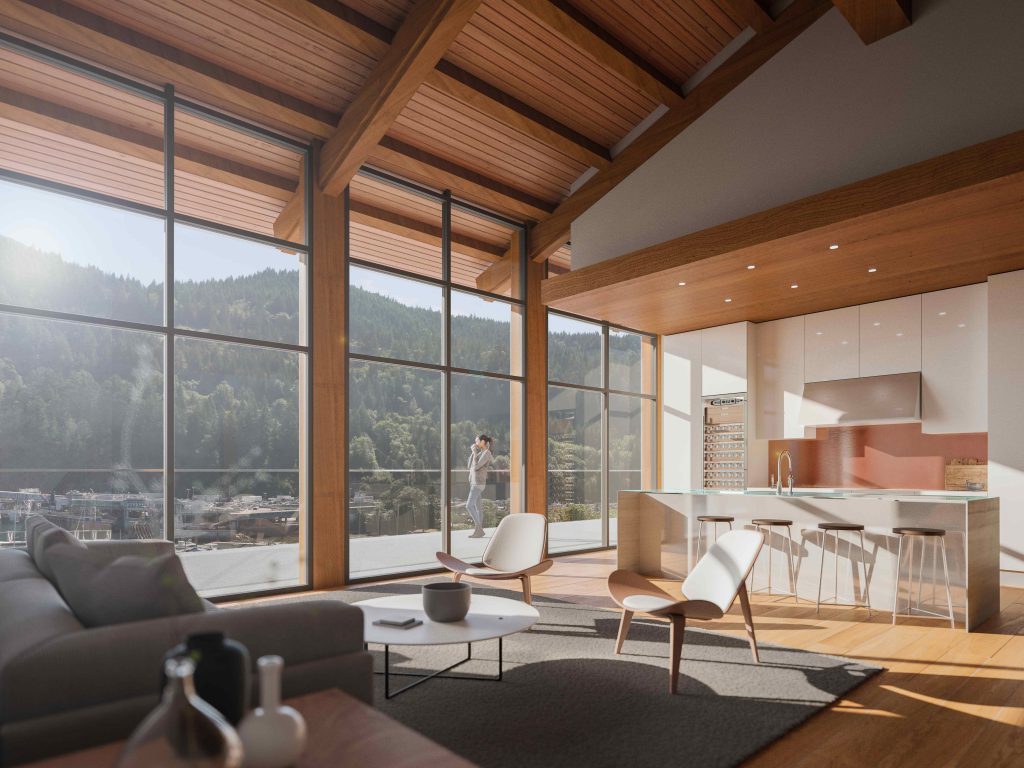 Location: West Vancouver
Project Size: 256,759 sf | 171 units
Developer: WestBank Corp.
Architect: Merrick Architecture
Interior Design: Merrick Architecture
Landscape Architect: PFS Studio
Presentation Gallery: 1502 Marine Drive, West Vancouver, BC
Completion: 2019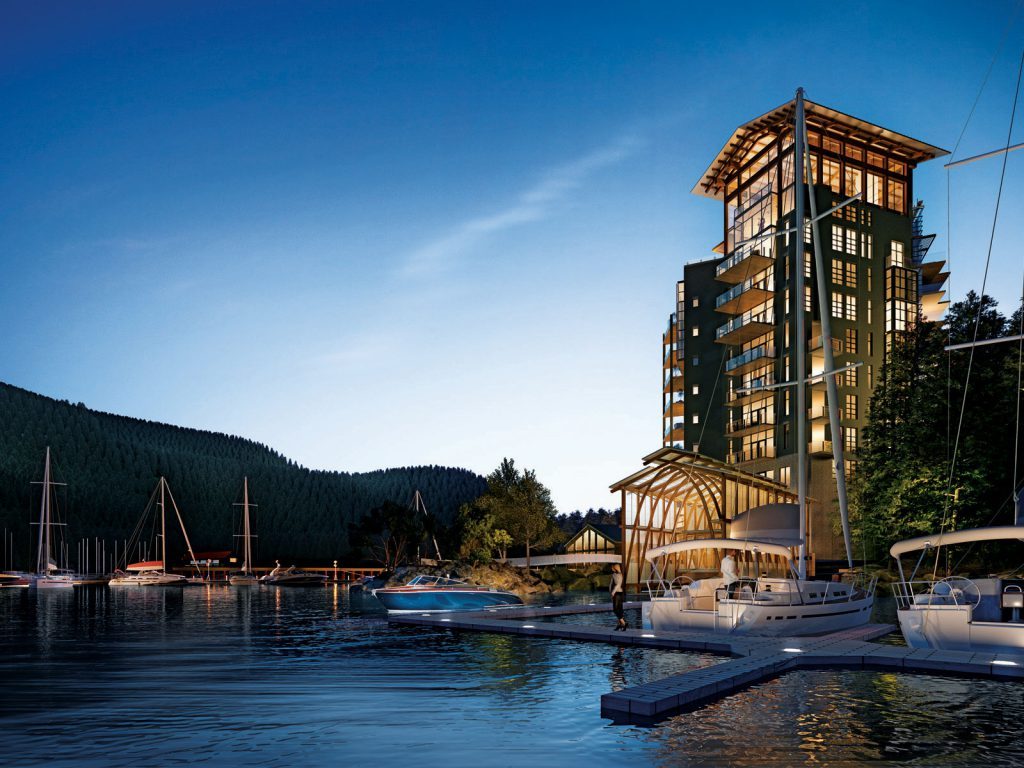 The Horseshoe Bay Project came to life when West Vancouver's Sewell family partnered up with architect Paul Merrick and WestBank's founder and CEO Ian Gillespie to create a luxurious yet energy efficient residential complex at Sewell's marina. Before being repurposed into residential real estate, the space was previously a large surface parking lot generally underused for much of the year. For several years, Dan Sewell gathered public feedback from Horseshoe Bay residents, business owners, and other stakeholders regarding his plan to redevelop the marina before submitting a formal rezoning application to the District of West Vancouver. The new project is supported by the Horseshoe Bay community largely due to Sewell and Gillespie, who both have very deep ties and fond memories of Horseshoe Bay.
Merrick's vision was formed with the public's feedback in mind, and sought to maintain the community at the marina while enhancing it with elements of West Coast modernism. He envisioned residents and guests experiencing and engaging with the environment rather than merely passing by it. Both the boat house and waterfront will be accessible to the public, and the marina will be connected to the neighbouring park through pedestrian walkways. The landscape design will be reminiscent of a European village with elements such as cobbled stones and grassy common areas to encourage public gathering.
Additionally, thanks to Gillespie's creativity and passion for efficient energy use, the new complex will feature an ocean geo-exchange loot to reduce greenhouse gas emissions. This energy-saving loot will be equivalent to taking between 60 to 80 cars off the road each year.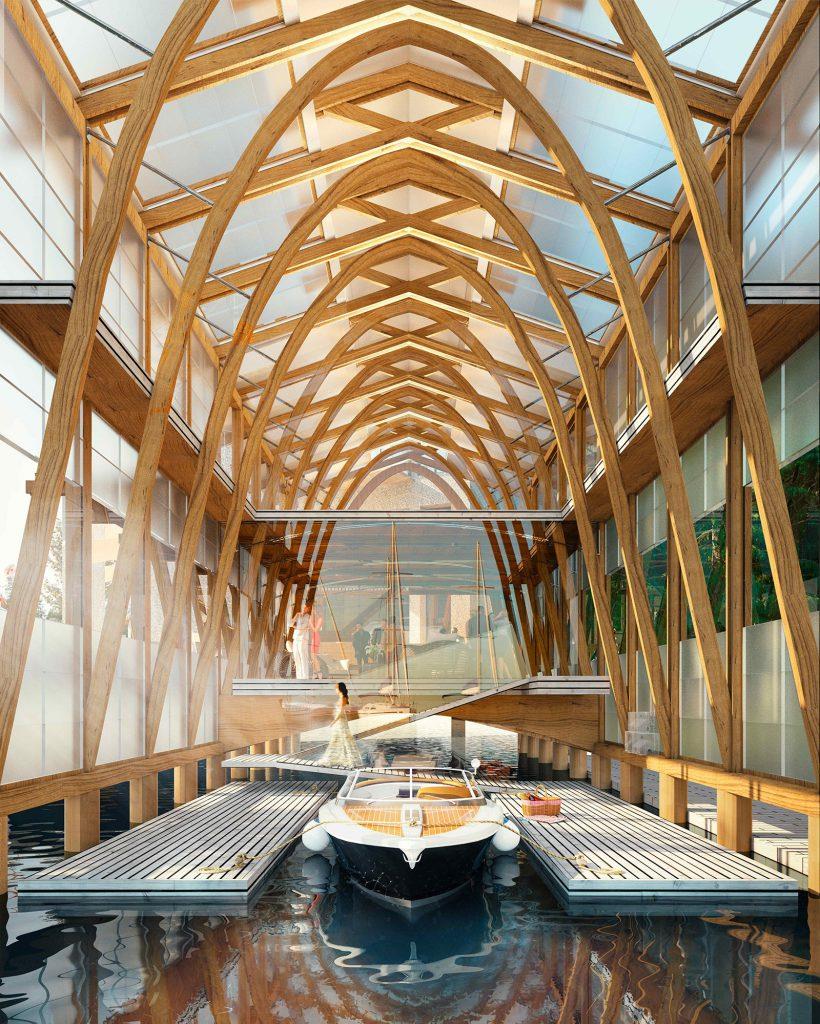 SPECIFICATIONS
DESIGN
West Coast Modern luxury homes in the waterfront community of Horseshoe Bay

Horseshoe Bay West Vancouver steps right out from the hillside to the ocean front

Interior design inspired by natural west coast surroundings

Layouts allow for natural cross ventilation and expansive views of the waterfront, mountain, forest, or park

Homes are accessed through covered external walkways

Reinforced concrete construction

In-building heating and cooling provided through an onsite geothermal ocean loop, allowing for a reduction in greenhouse gas emission of up to 70%

Underground Parking supplied with electric vehicle charging stations (available for purchase)
SECURITY
24-hour concierge

Building-wide electronic Access Control system

24-hour digital video recording surveillance of building entry points

Electronic access using a single encrypted security device

Video Entry System allows identification and screening of guests

Elevators include restricted floor access
AMENITIES
Amenity Boat House, truly one of the most breath-taking boathouses in history

Luxurious 24 foot Chris Craft boat, with dedicated Captain

Paddle Boards and Kayaks for residences to use

Private Lobby with soaring ceilings and architectural fireplace, with additional private lobbies for each building

State of the art gym
INTERIORS
Designed by Merrick Architecture in a West Coast Modern typology

Unique overheight extra wide solid oak suite entry door, modern interpretation of the Arts and Crafts style

Overheight ceilings

Wide-planked wood flooring in all living areas

Porcelain Limestone look tile throughout the bathrooms and up wet walls

Designer wool carpet in bedrooms

European kitchen cabinets and bathroom vanities

30" and 36" gas fireplace in majority of homes, covered in travertine stone

Finest quality roller-blinds with woven sun control fabric
For floor plans and pricing, please contact Richard at hello@richardbao.ca or 778-991-8848.
Rich & Paula
*All pictures are taken from Google*
References:
http://westbankcorp.com/horseshoe-bay-west-vancouver
https://www.biv.com/article/2015/8/sewell-family-proposes-171-unit-waterfront-condo-h/
Horseshoe Bay key holder speaker event – September 13, 2017