Westside Neighbourhood - Kerrisdale 凯利斯德区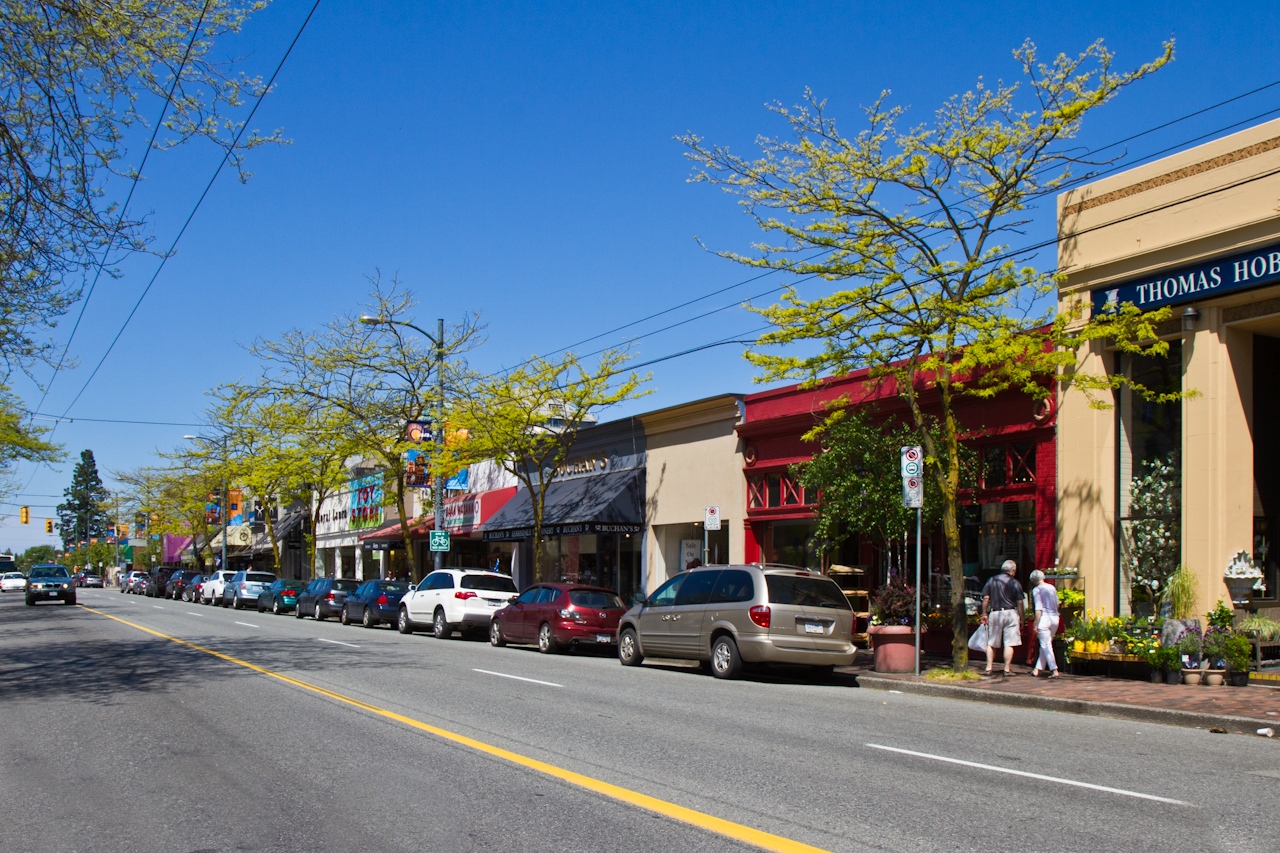 The beauty of Kerrisdale is another affluent and residential neighbourhood of south-western Vancouver, with tree-lined streets and specially designed street furniture to further add to its charm. Professionals, doctors, business people, and professors along with their families are long-time residents of the neighbourhood in single-family homes or low- and high-rise apartments. You'll notice that many of these heritage houses have retained a slight European charm to them. Less than 20 minutes away from both downtown and the University, Kerrisdale is the perfect neighbourhood to raise a family in a quiet and safe haven with its own shopping district and close access to the city center. Its school catchment of Vancouver's top-notch schools, various parks and exclusive golf courses also adds to its residential appeal.
All of your shopping and dining needs can be met within Kerrisdale Village, the main commercial area with over 200 retailers along 41st Avenue and West Boulevard. Here is where you will experience laid-back village vibes, old and new local boutiques, as well as your fix for charming teahouses, family-owned bakeries, eateries and organic markets. I haven't stopped over in Kerrisdale unless I've made a visit to one of my favourite department stores, Hills of Kerrisdale. It may be a small department store, but it's a classic one selling northwest high-end fashion since 1914. As for grub, you can't beat a classic handmade margherita pizza from the Bufala pizzeria or fish 'n chips from the Fish Cafe!
Nearby Schools
Quilchena Elementary School
Address: 5300 Maple Street, Vancouver, BC, V6M 3T6
Population: approx. 330 students
Grades: K-7
Public/Private: Public
French Immersion: Yes
Kerrisdale Elementary School
Address: 5555 Carnarvon Street, Vancouver, BC, V6N 1J2
Population: approx. 600 students
Grades: K-7
Public/Private: Public
French Immersion: Yes
Maple Grove Elementary School
Address: 6199 Cypress Street, Vancouver, BC, V6M 3S3
Population: approx. 511 students
Grades: K-7
Public/Private: Public
French Immersion: No
Point Grey Secondary School
Address: 5350 East Boulevard, Vancouver, BC, V6M 3V2
Population: approx. 1055 students
Grades: 8-12
Public/Private: Public
French Immersion: No
Magee Secondary School
Address: 6360 Maple Street, Vancouver, BC, V6M 4M2
Population: approx. 1,215 students
Grades: 8-12
Public/Private: Public
French Immersion: No
Crofton House
Address: 3200 West 41st Avenue, Vancouver, BC, V6N 3E1
Population: approx. 885 students
Grades: JK-12 (Girls)
Public/Private: Private
French Immersion: N/A
Rich